Surjith is alive as the robotic camera finds the temperature in the hands of Surjith
Vijayan Sankar (Author)
Published Date :

Oct 27, 2019 16:51 IST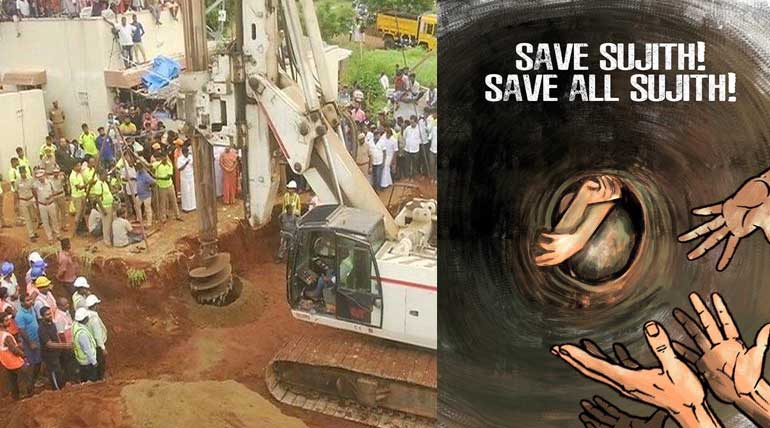 Will Surjith bring Diwali happiness to Tamil people will be known in few hours: ONGC rig digging a 110 feet tunnel one-meter width hole two meters from Surjith held in a 90 feet borewell hole hit rocks to stop rigging temporarily. It has increased the suspense thriller of two years old Surjith being in the hole for more than forty-five hours now.
Without water and food, how could that small kid is living, has made millions of Tamil people not to enjoy Diwali happily. Will Surjith come alive out of the hole and make it a real Diwali will be known in few hours after the completion of digging the hole by ONGC.
Surjith may be in a hole similar to that of his mother's womb: A child welfare activist, Mahalaskshi says that Surjith may be in a state now like he was in his mother's womb. For nearly two days now, he is without food or water, and there is no way to console or even contact him. His hands are now air locked to prevent further fall into the hole.
What could the child would have thought before it fainted for the past 45 more hours? It is pathetic to even think of it. A small 500 Rupees cover of the borewell hole could have saved a lot of trouble for hundreds of people in the rescue operation.
Who is to blame for this tragedy that two-year-old Surjith is undergoing? Kamal, Rajni, Harbhajan Singh, ministers, Collector, police officials, thousand of local people, millions of Tamil people are all worried about Surjith. Will the rocks pave the way for the safe rescue of Surjith will be known within a few hours from now.