New Trampoline Park for Kids and Students in Coimbatore by OxyZone Adventure Park
Thangaraja Palaniappan (Author)
Published Date :

Nov 26, 2019 12:34 IST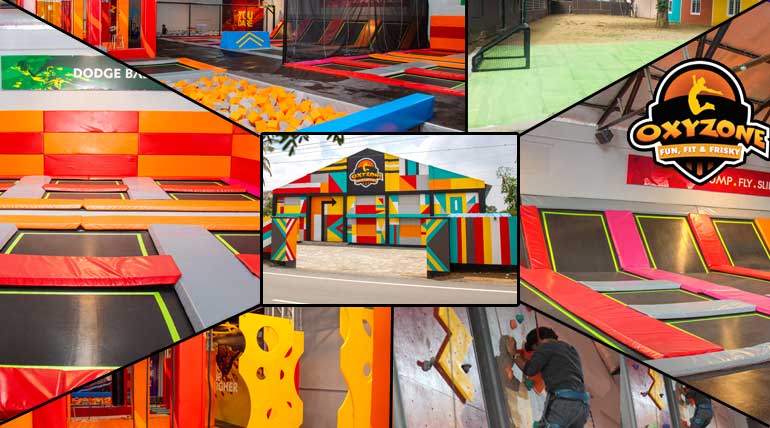 New Trampoline Park in Coimbatore by OxyZone Adventure Park, which is considered as one of the best Indoor play for Kids and students: Coimbatore is already a lovely city with lovely people. The town is filled with sightseeing spaces like malls and cinema theaters. Weekends are the best time to visit all these malls and theaters. If the people of Coimbatore want to have an adventurous weekend, there are places around for them like Kovai Courtralam, Siruvani, Eesha, Black Thunder; Nevertheless, the state of Kerala is just 90 km away.
What if the weekend gives less time to go for a long adventurous trip? What if the kids are fed up with visiting the same old places in the city? Now, there is a solution for that too within the town, more like an indoor theme park in which trampolines and adventure aids were set up like world-class infrastructure.
Coimbatore got a new recreation Trampoline park in Peelamedu, Avinashi Road, behind PSG Hospital, Coimbatore, by OxyZone Adventure Park. OxyZone Adventure Park officially opened on October 20th, 2019, with nearly 20,000 sq ft coverage area with Tag line of FUN, FIT, and FRISKY.
OxyZone Adventure Park provides several fitness games in Trampoline like Free Jump, Team play, Basketball, and Wipeout games, which used to be famous in the Pogo channel. Professional wall climbing with two types for kids and teens. OxyZone suits well for School students and College students. They have listed complete details in their website TheOxyZone.com with route map direction.
Highlights of OxyZone Adventure Park
OxyZone starts daily at 10 am and close at 10 pm
Dedicated dining hall "JumpN Kites."
Professional trainers to caretake players
Ample space to park around 30 cars and bikes
Experienced foreign professionals installed OxyZone Adventure Park with many standard protection measures.
Oxyzone Adventure Park Timings
Tuesday to Sunday, Morning 10 am to Night 10 pm
The contact number of Oxyzone Adventure Park 7010007904
What are the Fitness Games available in OxyZone Adventure Park
Trampolines
Free Jump Trampoline
Team Play Trampoline
Dodge ball Trampoline
Volleyball Trampoline
Basket Ball Trampoline
Foam Zone
Battle Beam
Ninja Warrior Course
Climbing Wall
Wipeout
Trampolines: Jumping on the trampoline is the best way to experience fun in a healthy way. With many interconnected trampoline squares, you are guaranteed with adventure like never before through bouncing, sliding, hopping, and jumping.
Free Jump: Except for the hard set safety rules, there are no specific game rules on the free jump trampoline zone. It is you who want to invent how to enjoy in this zone. You can climb and slide, or you can take a seat for a selfie shoot on the slope trampoline ramp, or you can just jump/hop the whole day to full fill your desire.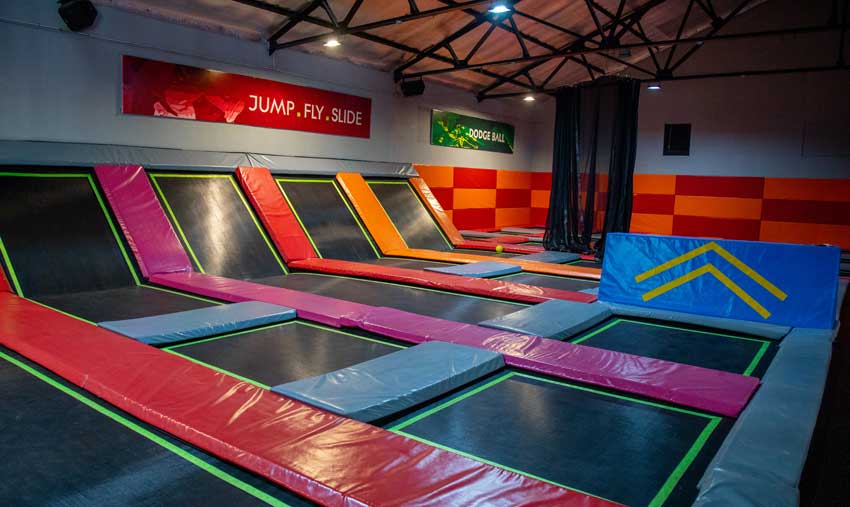 Team Play Trampoline: Team trampoline zone is exclusively designed for a team sport where 12 players (6 a side) can play. The most popular team sports are dodge ball and volleyball. Minimum of 4 players a side is needed to play dodge ball. This is great for parties, groups of friends, or corporate outings to blow off some steam.
Dodgeball is also an incredible workout without realizing you're exercising. Challenge your friends to a friendly game of Dodgeball or join a team on the day for an open match! Included in your Open Jump session and great for jumpers of all ability levels.
Dodge ball: Two teams throw soft sponge balls at each other as they jump on the trampoline. The trick is to maneuver your position so that you don't get direct hit by the ball from the opposite team. The last player remains unhit wins. Each game of dodge ball will last for 10 min and played for a total of 30 min.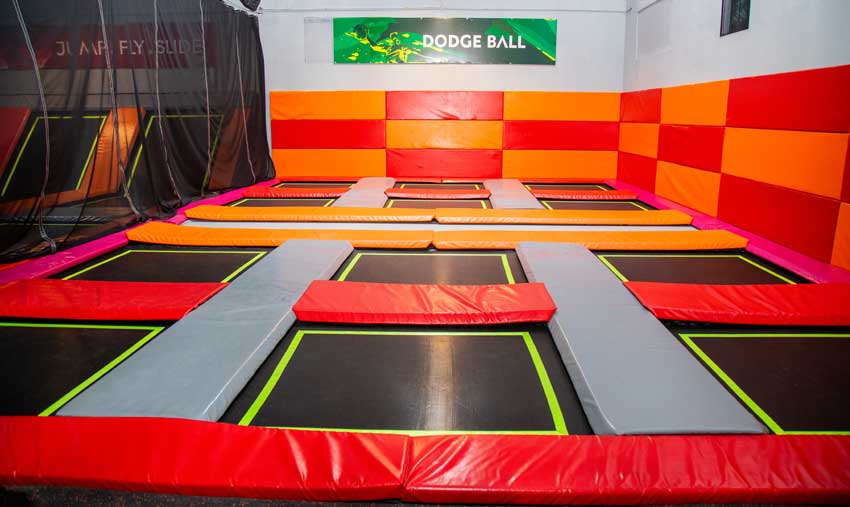 Trampoline Volleyball: The method of playing volleyball remains the same except that the ball is not the actual volleyball, and the spiking the ball becomes very easy with the help of a trampoline.
Basket Ball Trampoline: Trampoline Basketball is a fun sport that combines two of your favorite activities, which is jumping on a trampoline and shooting the basketball. It is twice the fun and twice the exercise - you will shoot the ball in the basket for sure with spring legs with the help of a basketball trampoline zone. Note: Basketball trampoline is just for a shoot out and not for actual play. Bounce down a trampoline track and take aim, fly into the air, and dunk!
Foam Zone: If you want to tackle your fear for dive/jump/ heights, then this is the place to be. Knowing that a giant tub of foam and air mattress suspended below, you will have the confidence to jump and feel the freedom. Foam Zone is the closest that you will ever get to play in a cloud. For moms, this would be the perfect place to swing your loved ones and even try to make them dive in the safest possible manner. Practice your tumbling moves or just take a run and jump and enjoy the ride.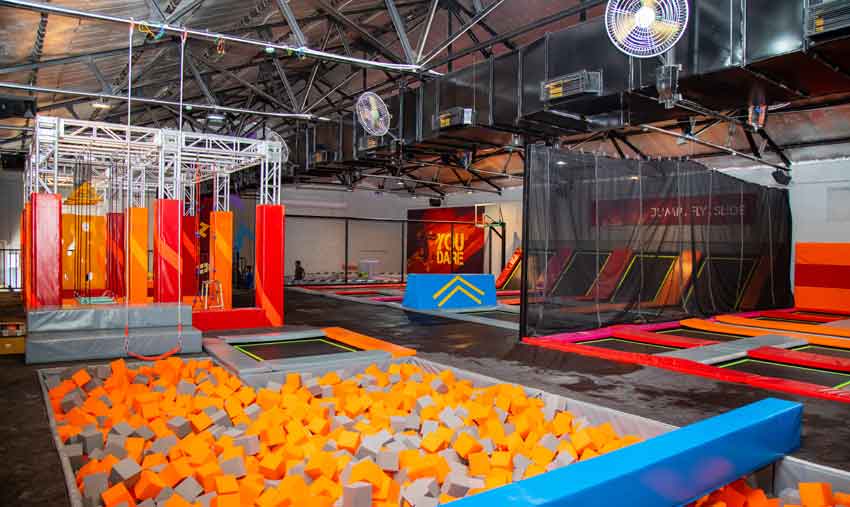 Battle Beam: Sophisticated pillow fight is what I call a game all day. Take your friends, family members, or colleagues for a one on one battle on our battle beam surrounded by a giant foam cube tub to make your fall comfort. The game here is all about keeping your balance while you take shots at your opponent.
Ninja Warrior Course: We will put your balancing abilities, core strength, speed, flexibility, and muscles to the test with our variety of obstacles. This is the place to show-off that you are the best when it comes to fitness. We have a total of six obstacles, and you can add up spice through watching completion time.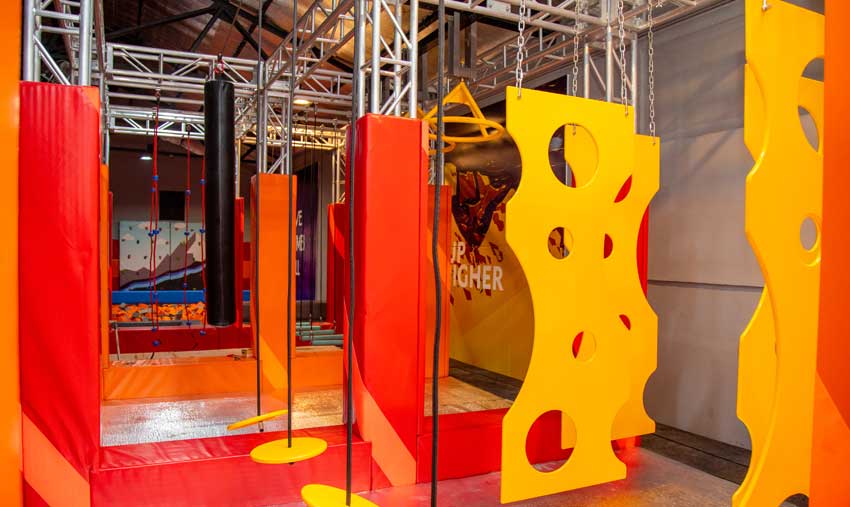 Climbing Wall: We will fulfill your childhood dream of being spiderman through our indoor vertical climbing wall. With varying degrees of difficulty, climbers of all skill levels can enjoy the challenge of conquering our 20ft or 25ft climbing wall. This sport will definitely build your muscles and hone your skills as you defy gravity and master your ascent while enjoying some cliffside fun. Climbing and descending experience will be truly amazing with auto-belay. Both walls are built with electronic timers to track your performance.
Wipeout: The goal is simple., don't fall over !. Take on your friends to see if you can beat the odds and stay on your platform! The longer you last, the harder it gets, as a giant padded Sweeper bar will attempt to knock players from their platforms. Dodge, dip, and jump your way to victory in this fantastic game! Win or lose, there will be plenty of laughs and endless amounts of fun, and Your stamina, agility, and reactions will be surely tested here.