Aruvam Review: Strong Social Message But With Weak Execution
Vijayan Sankar (Author)
Published Date :

Oct 11, 2019 18:28 IST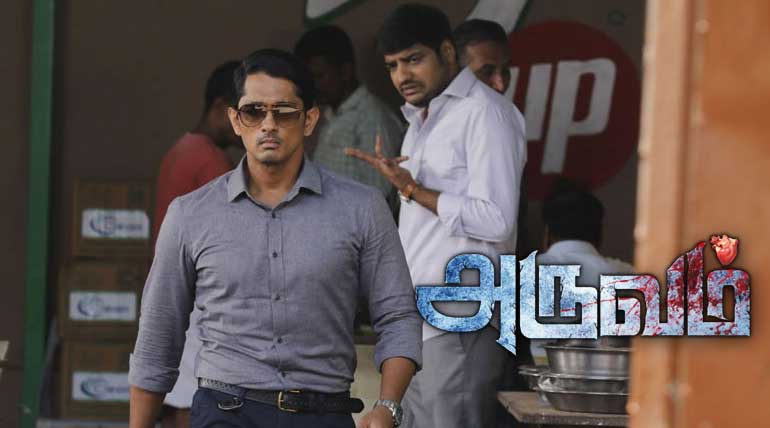 Aruvam movie is with a strong social message but with weak execution: The social message of food contamination is the predominant factor in Aruvam movie. But the movie fails to take the message to the audience and also find a solution to it.
The premature death of the hero also dents the script and the actions against those who contaminate the food. Siddharth's performance as a brisk food safety officer could have been more appreciated had the storyline helped him.
Catherine Theresa portrayed as a loving and caring heroine unable to smell the food could have been used better. Sai Sekhar has to learn a lot from Aruvam to win in his next movie. For those who love movies with social messages, Aruvam is a sure watch.
Aruvam movie team facing tough competition with Petromax movie even though its an average horror comedy but makes people laugh.
Siddharth and Catherine Theresa Acting in Aruvam Movie
Siddharth should have signed Aruvam for the social message of food contamination. It is sure a highly relevant message in today's world. But the way it should have been conveyed to the audience is more important for the message to reach the masses.
However, noble the intention be, the way it is executed is equally important. That is where Siddharth fails to impress the audiences. The Tamil audience widely appreciated his role as a strict traffic police officer in Sivappu Manjal Pachai.
But equally or more powerful role food safety officer in Aruvam should be more appreciated. But his premature death and other issues spoil the splendid acting of Siddharth.
Catherine is famous in Telugu movies for her glamorous roles and tries to be mother Terasa in Aruvam. She is unable to detect smell to highlight the social message of food contamination. But all these clever characterizations fail in the unorganized screenplay.
Thaman, Ekambaram and VFX scenes in Aruvam Movie
S.Thaman's BGM is good, but there is a repeat of the same score in many scenes. The disfiguring due to food contamination is the core of the movie and to an extent, well portrayed by cinematographer Ekambaram. The 37 minutes of VFX scenes are rather confusing in place of being spectacular.
Aruvam movie is with a good social message explained in detail of it's happening but not in the right way to reach the audience.