Asuran Actor Ken Karunas Makes Dhanush Smile in his First Stage Speech
Sivaranjani Soundararaj (Author)
Published Date :

Oct 04, 2019 16:06 IST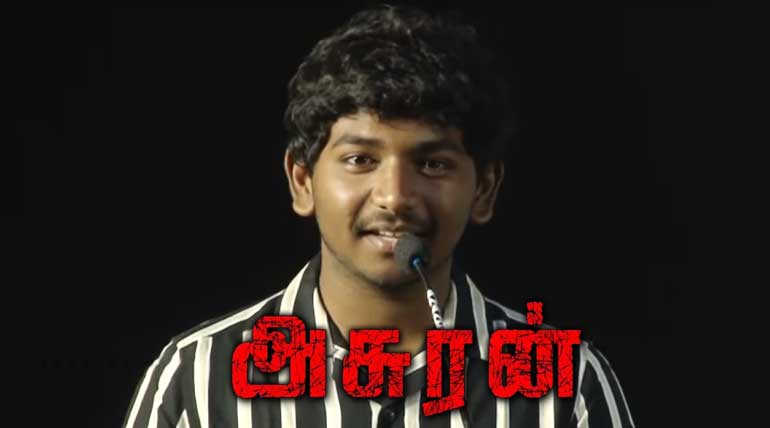 Ken Karunas Makes Dhanush Smile in his First Stage Speech: Actor and Politician Karunas Son Ken debuts his filming career in Dhanush's Asuran movie directed by Vetrimaaran. Ken Karunas is a playback singer in the Tamil film industry notable in Azhagu Kutti Chellam and Ragalaipuram movies. Ken sang in Asuran too.
Ken plays the role of Sivasamy's (Dhanush) son in Asuran along with Tee Jay(another son of Sivasamy). Ken's Gratefulness: Ken addressed everybody with thanksgiving in his first stage speech. Ken emotionally break out by thanking his Father Karunas on the stage.
Ken tells his admiration towards Vetrimaaran and his works politely; He shows his gratitude towards Vetrimaaran for the belief in him to act in Asuran film. Producer S.Thanu sir won't come to sets often, Ken said. But he thanked Thanu sir for his motivation whenever he comes.
Dhanush is 'All in All' To Me: Ken calls Dhanush as his Father, friend, well-wisher, tutor to me. The learnings from him are immeasurable and such a sweet life-time memory, Ken says. He adds Dhanush's simplicity is more admirable from him towards every artist in spite of his heights in the industry. Dhanush, TeeJay and I are PUB-G friends, Ken laughs. He expresses his love and gratitude for Dhanush on stage by smiling.
Ken and his Co-stars: Manju Warrier is my mother in Asuran movie; She comforted me well in acting. Asuran set is more fun-filled with Pasupathy, Aadukalam Naren, Pawan, Ken smiles saying G.V.Prakash made me sing in Asuran; It is more interesting to work with him.
Tee Jay is the brother of me both in Asuran and now; I loved working with Tee Jay. Vetrimaaran made Tee Jay lose weight in Asuran, comparing his first day from London to shoot, Ken kindles. Ken's first stage speech is full of gratitude and hopes his debut goes a long way to achieve more.