Bigg Boss Tamil 3: Kavin and Losliya Love Breakup
Vijayan Sankar (Author)
Published Date :

Aug 01, 2019 14:52 IST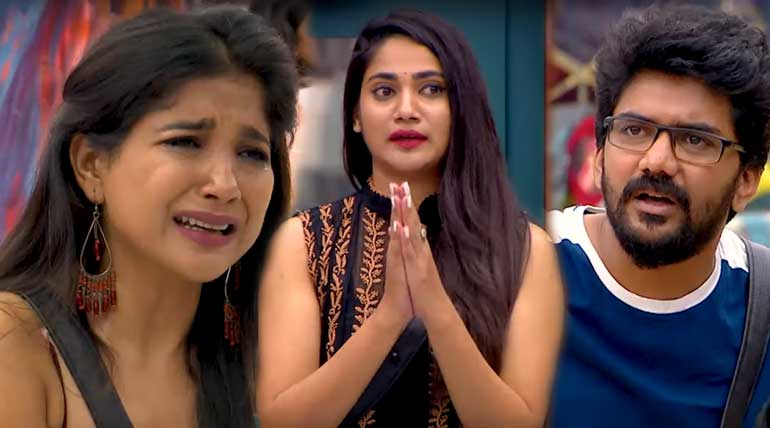 Kavin exposed in today's two promos and questioned by all contestants.
Kavin, the Casanova of the Bigg Boss Tamil 3, is in trouble. When Losliya speech was very angry about "she is not interested in talking to anyone anymore just because everyone felt me as responsible for everything for the problem between Kavine and Sakshi ", this incident will create breakup between Kavin and Losliya. When everyone inside the house feels bad about Kavin activity and Losliya joins hands with Kavin, this situation will create an uncomfortable situation for her. The two promos for today only confirm that he is fully exposed before the contestants and audiences. One after another, they question him regarding his flirting with two girls simultaneously. Will it pave the way for Kavin's exit this week?
Is Kavin being exposed too late in Bigg Boss Tamil 3 House?
Kavin from day one inside Bigg Boss House was seen as the lover boy. Though initially, everyone enjoyed it, no one felt the pain of the girls by his act. Especially when they are not with their family and friends and confined in a house for 100 days. It is the fact that even Kamal specified during consoling Sakshi. But Kamal was right as an anchor not to interfere much in the personal affairs. He also said it is up to the contestants to decide on the issue. And that is what is happening now.
The two promos exhibit the anger of the contestants on Kavin:
In the first promo, Saravanan asks Kavin to be patient when he was uttering angry words against Sakshi. Even Madhumitha requests him to do as per what they are saying. Cheran says that the issue is making everyone mad. Angry Losliya says she is responsible for the issue and wants no one to talk to her.
One after another contestants question Kavin:
The second promo shows an angry Reshma in support of Sakshi being abandoned abruptly and Kavin immediately choosing another girl. To that, Saravanan says that any human or even an animal will be angry for such behaviour. Tharshan joins in saying what is the need for Kavin to talk to Losliya at 2 AM in the night is. All this put together the fact that Kavin is facing the brunt for his misdeeds. Or, all of this is hype to the BB3 to increase the TRP ratings for it? Also to find out what Kavin is going to do for the onslaught by the contestants for his wrongdoing to the girls in BB3.