Bigg Boss Tamil 5: Fight Heated Up Inside The House And The Fun Begins
Vignesh Subbaian (Author)
Published Date :

Oct 20, 2021 15:39 IST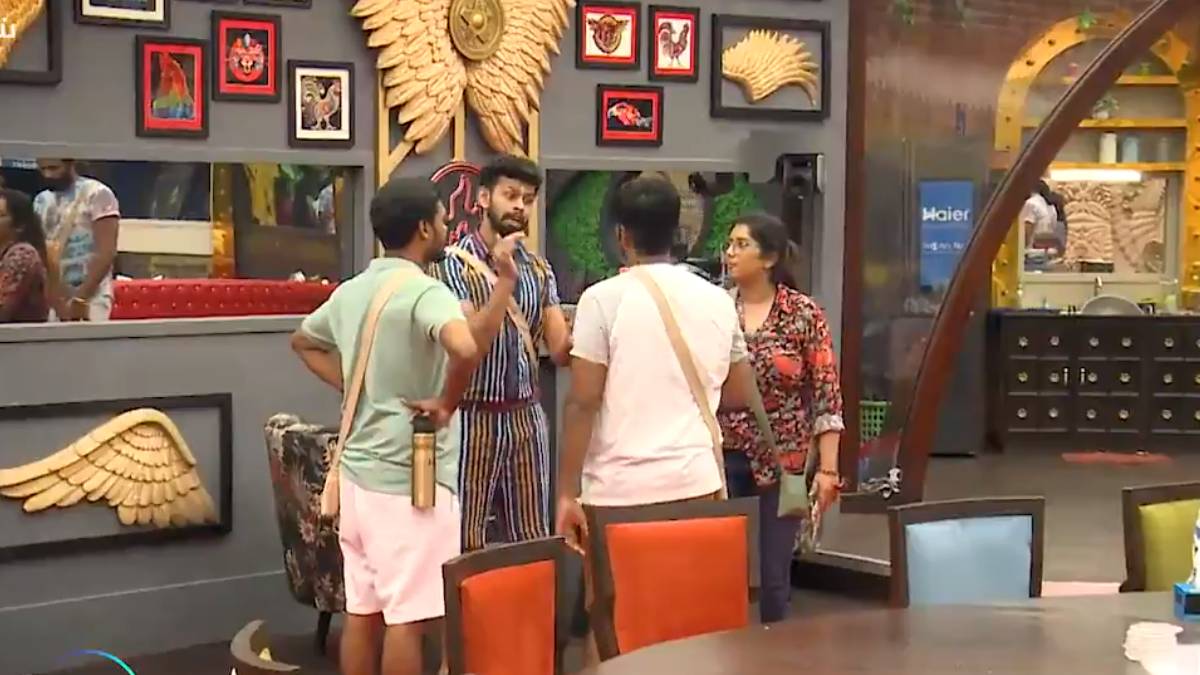 Bigg Boss Tamil season 5 is heated up, which can be noticed in recent today's promo. The game Panja Thandhiram has lighted the heat in Bigg Boss Tamil 5.
Two weeks have passed in Bigg Boss 5 Tamil with little fights and misunderstandings. Akshara has started to mingle with the other housemates, and her character is coming out. At the same time, her fan base also keeps increasing.
Pavni Reddy was the only contestant who was not nominated in the first nomination process. Her fans base outside the Bigg Boss house is comparatively big than the other contestants. Pavni's love story with her late husband Pradeep melted many fans. Unfortunately, Pavni Reddy is on the nominated list for this weeks eviction process.
The nominated contestants of this week eviction are Pavni, Abishek Raaja, Chinna Ponnu, Akshara Reddy, Priyanka, Thamarai Selvi, Iykki Berry, Isaivani and Abhinay Vaddi. Who will get eliminated as the day is nearing?
Bigg Boss has given many offers to Bigg Boss 5 Tamil contestants than the early Bigg Boss Tamil contestants. Yesterday there started a game 'panjabootham' which is the root cause of today's fight in Bigg Boss house.
The Bigg Boss House becomes a museum for this task. In it are placed five coins which refers to land, water, sky, fire and air. The contestant job is to steal it and secure whatever coin you have taken. Once the Bigg Boss contestant picks the coin, they have to show it to Big Boss. It is said that if the person is on the nomination list, then the person will be saved.
Bigg Boss announced that he could probably save the person of his choice if the person who had stolen the coin was not on the nomination. This task was held throughout yesterday, and all the coins were stolen yesterday.
There is one more rule that if the person who steals the coin gets caught, he will be sent to jail. Niroop finally took the two coins that Abhinav had hidden. Niroop gets caught with Abhinay Vaddi and is sent to jail. And those two coins were kept in a glass box.
Later, Pavni took one of them and gave it to Sruthi. Thus currently, Sruthi, Abhishek, Pavni and Priyanka have one coin each. Who will win and who will escape from the nomination will be known in today's Bigg Boss Tamil 5 show.
In the last promo, there burst out a talk that contestants are influencing one another. It seems like Abhishek Raja is brainwashing others and doing what he wants. In this situation, in the second promo released today, Suruthi stood in front of the camera and spoke about the unfairness of the game by mentioning 'message game'.
Varun and Abhishek, on the other hand, were arguing for influencing. Priyanka comes in between and says there is nothing right or wrong here, but it is wrong to influence others. To which Abhishek says I will do the same, then Varun interrupts, just as you can not say that it is wrong for me to stop it. To which Priyanka says something is going on here.
And by the Bigg Boss 5 Tamil promos, it is very clear that some big is going to happen in today's Bigg Boss Tamil 5 show. And the curiosity to know which Bigg Boss contestant will be saved in this weeks eviction. The elimination of Nadia Chang in the last week was a bit predicted because of her less involvement in the Bigg Boss house. Now. Out of 16 contestants, nine contestants are nominated for this week eviction.