Namma Veettu Pillai Review: Best Family-Comedy Entertainer
Vijayan Sankar (Author)
Published Date :

Sep 27, 2019 14:48 IST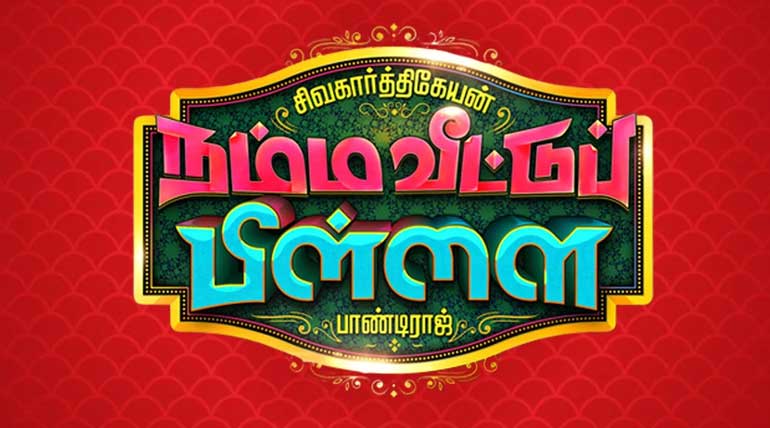 Namma Veettu Pillai Review: Siva brother of Tamil girls
Sivakarthikeyan is back with Hit movies. It is the sentiment comment of many coming out of the screens of Namma Veettu Pillai. Aishwarya Rajesh and Sivakarthikeyan bring back memories of yesteryears brother-sister sentiment to today's best level.
Sivakarthikeyan and Soori combo comedy along with Yogi Babu also makes this family sentiment movie a must watch one for all families. Namma Veettu Pillai is a sure family entertainer that makes the young girls want to have a brother like Sivakarthikeyan in real life.
Tamil cinema is back to the family sentiment of yesteryears.
For a few years now, families are rarely coming to theatres due to the evolution of Tamil cinema. But recently there is the old trend of brother-sister sentiment coming back to Tamil Cinema. Sasi's Sivappu Manjal Pachai and now Pandiraj's Namma Veettu Pillai are all revolving around only that sentiment to bring back the families to theatres.
Also, it could bond the families to know the value of such kind of relationship which is slowly reducing in our community.
Pasamalar and Kizhakku Cheemayile are compared by Namma Veettu Pillai audience
Bimsingh's Pasamalar and Bharathiraja's Kizhakku Cheemayile are cult films for a sister-brother relationship in Tamil movies. Maybe due Bhrarathiraja is acting in this movie, more of his classic Kizhakku Cheemayile is referred by audience coming out of the movie.
Also, some say that the love of the brother-sister relationship is that of Pasamalar. It is a relief to see sentiment movies showing brother-sister relationship getting good reviews from the audience like that of Namma Veettu Pillai.
Soori's son better in comedy than his father
Many audiences talk about the comedy of a small boy in the movie. He acts as Soori's son and betters the comedy of his father in the film. The Sivakarthikeyan and Soori combo is back after Varuthapadatha Valibar Sangam, Rajini Murugan and others to provide fantastic comedy. It is there from the start to the end to reduce the sentiment effects of the movie.
Yogi Babu though with limited presence in the film, makes his presence well acknowledged by the audience by fantastic comedy scenes and one-liners.
Pandiraj continues his hit after Kadaikutty Singam
Pandiraj's previous movie Kadaikutty Singam was also a family sentiment movie on the importance of agriculture. Many audiences refer Namma Veettu Pillai to that of Kadaikutty Singam for the family sentiment. Pandiraj being the master of taking movies in any genre is again chosen the family sentiment well with Namma Veettu Pillai.
With many international awards to prove his worth, he has done a fantastic job of bringing the brother-sister sentiment in today's trend to be loved by families everywhere.
Sivakarthikeyan is back with Hit Movies
Many audiences confirm that Sivakarthikeyan is back. Since Pandiraj is his favorite director and already done two films with him, has made Sivakarthikeyan perform well in this movie. Given a robust platform of sister-brother relationship, he hits the ball out of the park with this movie. Also, with a wonderful actor like Aiswarya Rajesh as his sister in the film, it provided enough scope for him to prove his acting skills in this movie.
Aiswarya acts well as the loving sister, and also brings the best of a Sivakarthikeyan once again. The long wait for Sivakarthikeyan, with his two previous movies not so good at the box office, Namma Veettu Pillai is sure going to be the fresh air and big hit he much needed now. But above all, many young girls wanting a brother like him in real life after watching this movie is his great success.
D.Imman, Nirav Shah & Sun Pictures
D. Imman is recently in many big bannered movies now. Kantha Kannalagi song is sure a hit already and with the success of this film is going to be the ringtone of many mobile phones. Nirav Shah's cinematography, as usual, brings the best of the sentimental scenes and song sequences to the best. Sun Pictures is the anchor for the whole movie.
Apart from spending considerably on the production of the film, it will see to its grand success with maximum marketing ability. With Sun TV to take even an average movie to peak, Namma Veettu Pillai is sure to be the talk of Sun TV viewers. The advertisements every 5 minutes in one of its channels continuously is going to take the movie to all the people quickly.
The storyline of Namma Veettu Pillai
Pandiraj gets the village background which is his best playground to make great movies like Pasanga. He has proved it again with Namma Veettu Pillai in the village backdrop. The story is revolving around the brother-sister love with some action and a lot of comedy.
The unconditional love to give up anything for it is the theme of the movie and will enthrall any family with its high values taken as per today's trend. The brother-sister love sidelines Even the lead actress role of Anu Emmanuel of Thupparivalan fame. Rather than explaining the story of sibling love of the movie, it is better to watch it on screen for full enjoyment.
Pandiraj - Sivakarthikeyan - Aiswarya Rajesh - Sun Pictures will sure make your family happy and create bonding after watching this family sentiment comedy movie Namma Veettu Pillai.