Parotta Soori thanks his senior Goundamani and Sundar C for the First Dialogue
Vijayan Sankar (Author)
Published Date :

Sep 25, 2019 15:22 IST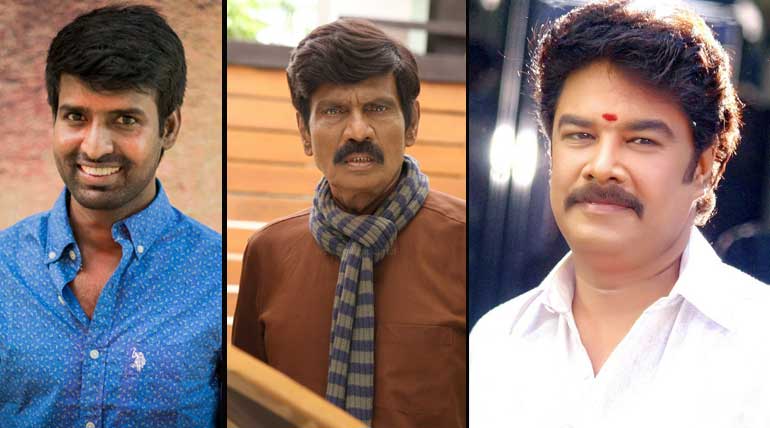 Parotta Soori thanks his senior Goundamani and Sundar C for giving him his first acting opportunity in 2000:
Soori made parotta famous in Tamil Nadu, or parotta made Soori famous, is a debate worth watching. Such is the influence of that one scene in Vennila Kabadi Kuzhu film that made Soori famous for the past ten years. But Soori wants to remember something that happened even ten years before it. He thanks Goundamani and Sundar C for allowing him to speak his first dialogue in their movie Kannan Varuvaan released on 25th May 2000. He has acted previously in three movies in 1999 including Sangamam, but there were no dialogues for him in those movies. Kannan Varuvaan did not give him a break but with the first dialogue on the big screen, provided him an opportunity to make him a star comedian ten years later and to continue until now.
Soori and Vennila Kabadi Kuzhu
Though Soori acted in a scene in Kannan Varuvaan in 2000, the next ten years was only suffering for him until 2009. It was the village sports drama film Vennila Kabadi Kuzhu by Suseenthiran that made Soori the star comedian, he is now. His native village looks and acting at that time was a welcome to the Tamil film field. Above all the lines of "Ellathium Alinga, Mothalla Irunthu Podunga" for parotta eating competition was talked by everyone not only at that time but also now. That is the impact of that scene which Soori should also be thankful.
Soori's acting careers growth
In the next ten years after eating parotta in Vennila Kabadi Kuzhu, he has acted in more than 80 films so far. This year he starred Vennila Kabadi Kuzhu 2, a sequel to the previous one. He also starred in Kennedy club. Both the movies were average, and he is waiting now for the next two big releases of Sanga Thamizhan and Namma Veettu Pillai. Pairing with Vijay Sethupathi in this political action Sanga Thamizhan film could get him due recognition. But the most awaited is Namma Veettu Pillai along with his favorite hero Siva Karthikeyan. Many people expect a repeat of Rajini Murugan and other hits of this combination.
Hope Suri eats many more parottas and gives a lot of hits in the future for both his good and for the ailing Tamil field industry.
20 years back ❤️
சினிமாவில் நான்
பேசிய முதல் வசனம்.
நன்றி கவுண்டமணி சார் 🙏
நன்றி சுந்தர்.சி அண்ணன் 🙏
படம் "கண்ணன் வருவான்" (2000) pic.twitter.com/9cjwXf4uWV

— Actor Soori (@sooriofficial) September 25, 2019