Sandy saved, Tharshan evicted, Kavin back in the Bigg Boss Tamil Show
Vijayan Sankar (Author)
Published Date :

Sep 28, 2019 22:49 IST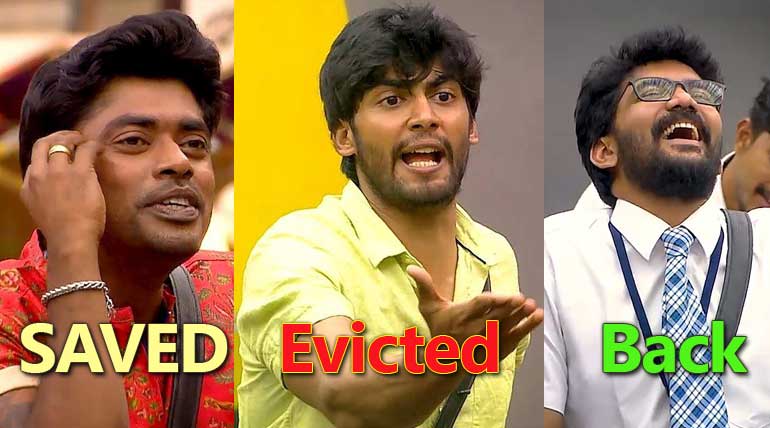 Sandy saved, Tharshan evicted, Kavin back in the show - all unexpected happening in the final week of bigg boss 3 Tamil show
As per latest votes count, from the bigg boss 3 Tamil house, Sandy master is the first person to be saved. Next comes Losliya and Sherin to follow suit. Mugen is already through to the finals. So, your guess is right, Tharshan is out of the bigg boss 3 Tamil house tomorrow.
Kamal brings in Kavin on a friendly note to the stage and makes him speak to the contestants.
He seems to be so caring for Kavin that even his haters will be proud of it. As Kamal has been saying for the past nearly 100 days, all the unexpected is happening in the final week of bigg boss 3 Tamil house.
Kavin back in bigg boss stage and made the hero of bigg boss 3 Tamil show by Kamal
Though Kavin honestly confessed to Sandy that he could not be on the stage after doing certain unfavourable things in the house, he was back on bigg boss stage today. The most encouraging factor was that Kamal was so friendly with him and was seen hugging him most of the time.
Maybe he is defying all Kavin haters and consoling Kavin fans for his premature self eviction from the show. Kavin spoke to Losliya carefully, minding her parents will be watching and was well booed by Kamal for it. Altogether, Kamal made Kavin the hero of bigg boss 3 house today.
Tharshan - the favorite eliminated
From the start of the bigg boss 3 Tamil show, if one thing was nearly certain, it was Tharshan to win the prize money. Coming from the war-torn country and having suffered most of his life so far, Tharshan had not only got the Sri Lankan Tamil people support but also from all people. But tomorrow he is set to be eliminated from the house.
That leaves only Sandy, Mugen, Losliya and Sherin to fight it out for the prize money. What could be the reason for Tharshan to be eliminated is a 50 lakh question for anyone to know.
Get ready to enjoy the last week of bigg boss 3 Tamil show, with all the unexpected happening and also the expected to happen.