Namma Veettu Pillai and Thittam Poattu Thirudura Kootam Releasing on September 27th
Anusha Sathish (Author)
Published Date :

Sep 23, 2019 17:55 IST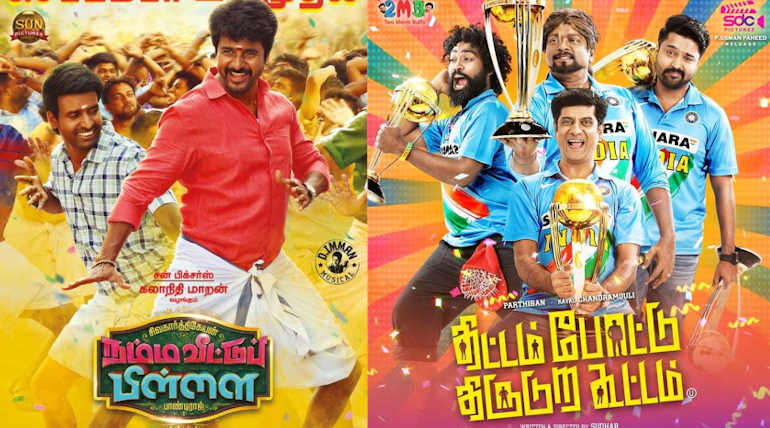 Namma Veettu Pillai - the family entertainer and Thittam Poattu Thirudura Kootam- the comedy drama to embellish screens on September 27th: Sivakarthikeyan-lead Namma Veettu Pillai has cleared censor, and it is all set to get released on September 27th. Expectations from this movie is a little high as, after Marina movie, the director Pandiraj and Sivakarthikeyan joined hands. Marina indeed was a turning point to Sivakarthkeyan, and after a long time, Namma Veettu Pillai will again be a breakthrough for Siva.
Sivakarthikeyan's movies Seema Raja and Mr. Local did not perform well on the screen. Hence, he told himself that he looks forward to "Namma Veettu Pillai" as a debut movie and a breakthrough is expected. Kalanithimaran bankrolled for the project, and Sun pictures will release the movie on September 27th. Movie is composed by Imaan and Nirav Shah cinematographed it. Anthony L Ruben edited the movie. The trailer showed that this movie touched sibling sentiments the new age emotions much appreciated.
Also, it is needed as the love between the siblings is fading away due to many unstated reasons. Aishwarya Rajesh also hinted that she has done one of the best roles in this movie. Four more days to come out of the virtual expectations and review the reality.
Another movie queued up to get released is "Thittam Poattu Thirudura Kootam" lead by Chandramouli P Subramanyan paired with Satna Titus. It is a comedy-drama film, and Parthiepan takes the supporting actor role. P S Raghunathan and Prabhu Venkatachalam produce this movie with Martin Joe's cinematography. Ashwath Naganatan is the music director and K J Venkatraman edited this movie. Usually, the comedy-drama requires fantabulous editing skills to make the screenplay interesting.
Venkat will not disappoint us in this context and trailer showed a 5-member team tried to steal the world cup. Probably it would be the climax of the story; whether they hit or miss the world cup. Between the dialogue says, "As usual we are flopping the show. Run fast before we get caught," shows all their plans to rob goes amiss. Hope the movie runs in the comedy track with the right mix of feel and emotions. Let's mute our thoughts to watch it on screen.