Who Is TTF? Youtuber TTF Vasan Motorist Birthday Celebration With Fans
Sophia Loren (Author)
Published Date :

Jul 02, 2022 15:13 IST
Youtubers are gaining maximum fame equal to cinema actors and actresses in recent years. With an individual's talent, he/she gains fame by becoming familiar with his followers and the world. TTF Vasan famous Coimbatore-based motorcycle rider has been trending, especially after his birthday party.
Also Read: TTF Vasan: Rising Accusations On Speed, Highly injurious to Youngsters
Individual channels have started on YouTube, and now many people use YouTube in a good way by gaining attention and earning money. Videos like makeup tutorials, cooking, trending updates, how-to videos, experiments, riders video, travel, unboxing videos, and many other creative videos gain more attention among children and other age viewers.
TTF Vasan, a famous travel vlogger through a YouTube channel, is becoming very popular on the internet today. Vasan from Coimbatore started his YouTube channel Twin Throttlers in 2020 with just a few hundred followers. Within a few months, his subscriber count crossed 20 lakhs, and now he has 2.74M followers on Twin Throttlers YouTube.
TTF Vasan bike ride video from Coimbatore to Ladakh which he posted on Twin Throttlers Channel has been liked by millions of youngsters. The youth of 2k kids and the bike lovers of every age group were amazed to see the adventures he showed on the bike with amazing speed and incredible skills. He used to show kindness and humbleness to the passersby during his ride. If he met children and older people while travelling, he would shower sentiments and love by giving money and gifts to him, which increased the number of subscribers many times.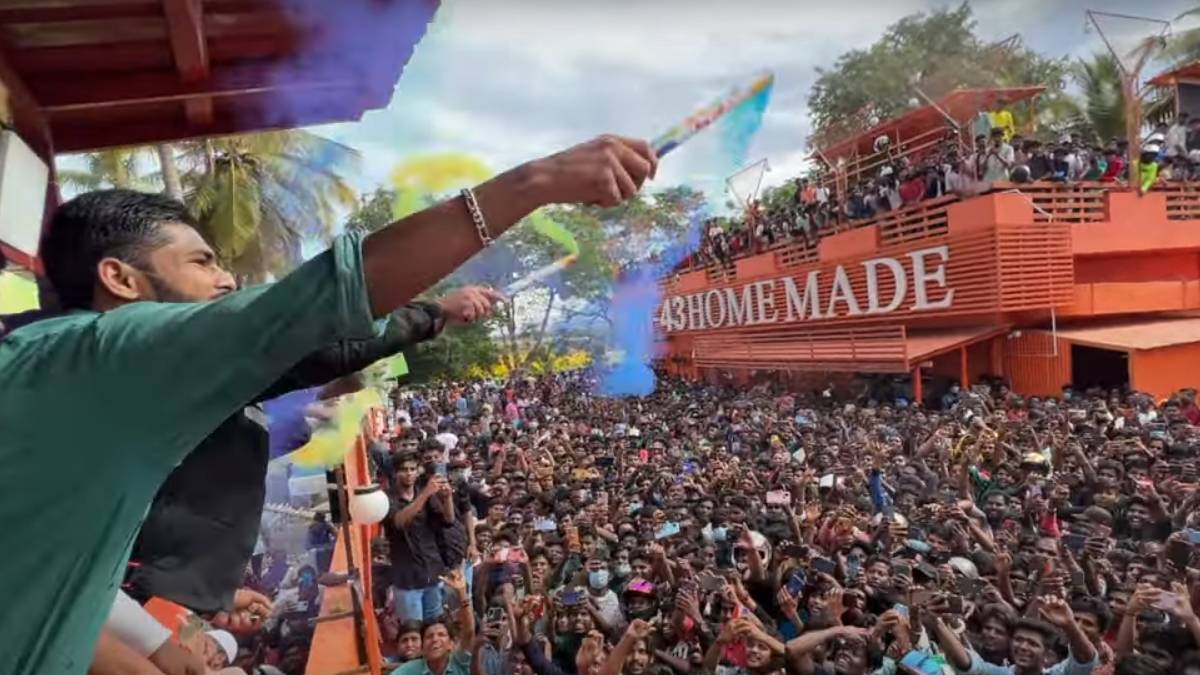 He started his journey with his father's old Inbuilt vehicle, and now he owns several superbikes. With that, he travels all over India and earns well, including fans. TTF Vasan has a competitive channel named Kutty TTFF, in which the 2K kids will drive a TVS 50 at 20 kmph and does everything like TTF Vasan. Even this Kutty TTF gained much attention among the youngsters and others.
In this situation, thousands of his fans flocked to see TTF, who recently celebrated his birthday. Social netizens were overwhelmed by the crowd of volunteers who had gathered to see and hear him speak. He planned for a meet with at the TN 43 Hotel in Coimbatore. On his way to the hotel, his fans were screaming his name on the road, and he circled by his fans, most of whom were youngsters.
His fans were waiting for him at his home in Coimbatore with one and a half kilos of cake and showered him with huge cakes. When he reached the hotel, he was surprised to see thousands of fans around him. As a result, the place looked like a festival as the crowd of fans increased as time passed, and the police were overwhelmed as they could not handle the crowd.
After this, additional police and bouncers were called there, controlled the fans, and warned them not to organize such programs without prior notice. Now, this video footage is spreading rapidly on social media. And to surprise, many female riders and fans joined the crowd to see TTF Vasan. After watching the TTF Vasan Birthday video on Twin Throttlers YouTube Page, one can understand how he gained recognization in and around Tamil Nadu with his interest in riding.