2021 Bigg Boss 5: Bigg Boss 5 Tamil Contestants List And Biography
Sophia Loren (Author)
Published Date :

Sep 27, 2021 15:53 IST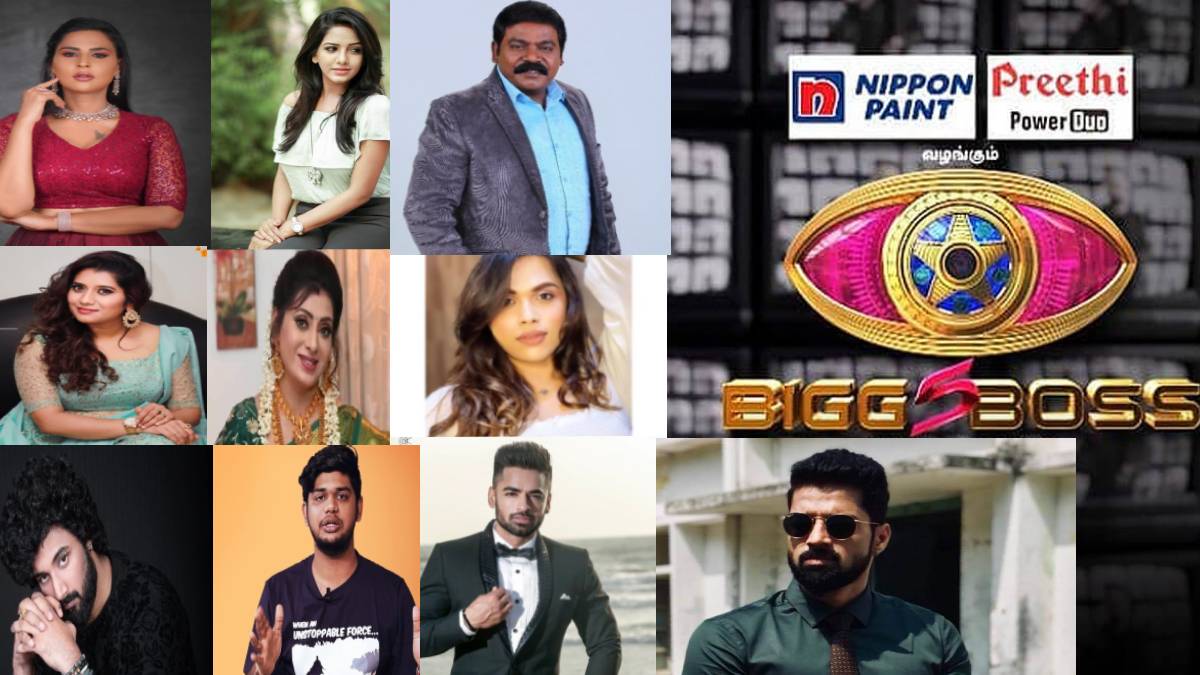 Bigg Boss Tamil 5 is getting heated up with the latest updates on the contestants and tasks. The list is thoroughly prepared, and there are no more further talks on invite letters. The housework is also completed with an attractive set and lightings.
The launch date for Bigg boss 5 Tamil is also revealed. October 3 will be a huge celebration for Vijay Television and the Bigg Boss armies. The confirmed contestants' lists are partially known, but the official announcement on the Bigg Boss 5 Tamil contestants list will be revealed only on October 2.
Few contestants names are exciting and excited to watch how they are going to react to the happenings that are going to happen in front of so many cameras. The confirmed contestants are in quarantine in a grand hotel. The confirmed list of Bigg Boss 5 Tamil contestants and the biography are listed below.
The most expected contestants of Bigg Boss 5 are Mila, Namitha Marimuthu, Priya Raman, Imman Annachi, Niroop Nandhakumar, Abhishek Raaja, Pavani Reddy, Gopinath Ravi, Priyanka Deshpande and Santhosh Prathap.
The confirmed contestants are Raju (Mimicry artist), Isai Vani (Gaana Singer), Namitha Marimuthu (Transgender Beauty Queen), Mathumitha (Costume Designer), Abishek Raaja (Youtuber), Priyanka (Anchor), Abhinay (actor), Pavni Reddy (model), Chinna Ponnu (Folk Singer), Nadia Chang (social media star), Varun (actor), Imman Annachi (anchor), Suruthi (model), Akshara Reddy ( model), Iykki Berry (singer), Thamarai Selvi (Folk singer and folk artist), Niroop (acting aspirant), Ciby (actor).
Namitha Marimuthu:
Namitha Marimuthu is a trans model who has won Miss Kuvagam Title. She is a famous personality on Instagram and other social media. Her photoshoots were trending after knowing that she would be a part of Bigg Boss 5 Tamil. She has acted in Nadodigal 2.
Namitha Marimuthu has a unique style of posing pictures during photoshop, which leaves the image look stunning. Her costume will always be super cool with different colours and designs. The locations that she chooses for the photoshoots will also be impressive.
She has much interest in acting and modelling. Namitha Marimuthu wishes to start modelling and acting institute for transgender people. Namitha Mari Muthu is recognized as the trans ambassador of Miss Trans Queen 2019 and has won the title Miss Trans Gender Of India. It is very exciting to watch on Bigg Boss Tamil show.
Priyanka Deshpande:
Vijay Tv anchor Priyanka is known for her humorous talks. When she gets on the stage along with Ma Ka Pa Anand to host the Super Singer show, for sure, it is going to be fun. It is hard to hate such a personality. There is a special fan base for Prinyanks in Tamil Nadu. The way she talks and dresses up will be lovely.
Priyanka has many talents, and one among the talent is singing. It is her hobby as well as a talent. The songs that she has sung in Super singer are still liked by the viewers. 'Veliyodu Velaiyadi' and "Whos, the Hero' songs, was excellently sung and led the audience and judges left with goosebumps. It is very exciting to see Priyanka in Bigg Boss Tamil.
Imman Annachi:
Imman Annachi is a film actor, television presenter, politician and comedian who has appeared in Tamil cinemas. She is known for the Tamil accent that he uses. Imman Annachi has hosted many Sun Tv shows, which gained him fame. His is screened as a comedian in many lead heroes film.
Although his roles in the film are less comparatively, his part gained attention, especially in Vijay movie Jilla where Imman Annachi will be the Exam Supervisor, and actor Vijay will be the examiner. He has acted in more than 25 Tamil films. Imman Annachi hosted Solluganne Sollunga on Adithya TV before moving on to work on the show Kutty Chutties on Sun TV.
Niroop Nandhakumar:
Niroop Nandhakumar has been in the talks among the girls recently as he is one of the contestants in Bigg Boss Tamil 5. Niroop Nandhakumar is a model and an actor who showed up on Telugu screens. He was born on August 6 1993 and did his college at SRM Institute of Science and Technology.
Abhishek Raaja:
Abhishek Raaja is a familiar face for movie lovers. Yes, he is a YouTuber who reviews the film. His youtube channel "Open Pannaa" discuss cinema, exclusive interviews, and celebrity talks. His channel has 278k subscribers.
When a film is released, his reviews will be the first one to be on the list in Tamil. His reviews will be in detail, connecting with all aspects of the film. He also speaks on the technical aspects of the film. He is a young guy who has many ideas for the entertainment section.
Pavani Reddy:
Pavani Reddy is a model and actress known for her lead role in the Tamil serial Chinna Thambi. At 21, she started her modelling career before playing a village belle in Rettai Vaal Kuruvi.In 2017, she played the female lead in Chinna Thambi. In 2018, she starred in the Malayalam language television series Neelakkuyil before being replaced.
The saddest part of Pavani Reddy is that her husband committed suicide in 2017. It is said that the couple has misunderstandings, and that led Pradeep Kumar to take up such decisions.
Gopinath Ravi (Rumoured Contestant):
Gopinath Ravi was born on September 25, and he is an Indian model and an actor. He made his cinematic acting debut in 2020 in a Tamil psycho mystery thriller Bagheera in Adhik Ravichandran's direction along with Prabhu Deva, where he played the role of Sakshi Agarwal's boyfriend.
He is the winner of Rubaru Mr India 2021. It is said that he will be representing India in the United States of America in the upcoming international pageant Master of Misters organized by TIM Management Group.
Santhosh Prathap (Rumoured Contestant):
Santhosh Prathap is an Indian model and an actor who is very familiar with the Tamil film industry. He made his film debut as a lead role in Kathai Thiraikathai Vasanam Iyakkam. He recently did a lead role in Sarpatta Parambarai as Raman, in which he took complete effort to maintain his body physic.
His well-known films are Mr Chandramouli, Podhu Nalan Karudhi, Dev, Naan Avalai Sandhitha Pothu, Pancharaaksharam, Dushyanth, Oh My Kadavule, Irumbu Manithan, and Yen Peyar Anandhan. He also starred in the lead roles on the Tamil web series, namely Police Diary 2.0 and Kuruthi Kalam.
These contestants are expected to join in Bigg Boss Season 5 Tamil. The Bigg Boss is with great expectation es[ecial for the official announcement of Bigg Boss 5 Tamil contestants. Watch Bigg Boss Tamil on Disney Plus Hotstar and on Vijay Television. The Bigg Boss 5 Tamil will start on October 3.
Mila (Rumoured Contestant):
Mila has been a famous trans model and fashion designer in Tamil Nadu in recent days. She gained many fans snd followers for her open-hearted talks and the way she reacts to specific questions. Milla is unique and pretty in her way. And to note, she is the adopted daughter of Indian film actress Shakeela.
Mila Shakeela is a tattoo lover and loves to listen to music. She has acted in Thyagam and Maruthani Tamil serials. Mila is a bold and sweet lady who almost captured many Tamil fans. Her name Mila defines White Princess. Milla has shared her personal life with the media in many interviews.
In few interviews, she has mentioned the hard times that she faced in media for being transgender. Her experience and the way the people treated her made her transform entirely into a female. Shakeela, her mother, is the only person she loves the most in the world. She often says that she loves her mother a lot.
Priya Raman (Rumoured Contestant):
Sembaruthi serial is incomplete without Priya Raman. She performs her role to the best as no other can make it so lively and good. Her stern voice and bold decisions will move the serial to further episodes. There are few women serial viewers who halt to see the sarees and jewels worn by Priya Raman.
Priya Raman dialogue from Suriyavamsam was trending with memes in recent days. Her role in that film will never be forgotten. She has screened in many tv shows, serials, and movies. Malayalam and Tamil media fans will be familiar with her face.
Priya Raman is not only an actress but also a film producer. She works on Sun Tv, Surya Tv, Vijay Tv, Zee Tamil, Asianet, Jaya Tv, Flowers Tv and Gemini Tv. She acts as a Judge, anchor and as an actress in these tv shows.